Family Caregiver Coaching, Support and Education
Caregiver Support is intended to help you find the encouragement you need to be present for your family
You're ready to help your family members face the many ups and downs of aging and to learn to take care of them in a way that is considerate of their needs as well as your own if they would only let you.
However, every time you broach the subject, they don't want to talk about it…
Planning for the future is a touchy subject. Finances, Moving, Making their home safe. Grab bars, Retrofitting homes.
All of this and then helping with caretaking on top of it. You think you are going to explode.
When you first noticed your family members getting older, you knew you'd have to be a present force in their lives. You pictured yourself caring for them when they were sick or doing the duties around the house as they became too much of a challenge if you could….
You spent some time thinking what becoming their caregiver would mean for your own family, your own obligations, and your own goals. You felt completely equipped to step into this role knowing it would require a lot from you. And when the day came for your loved ones to call on your help you were ready. But you had no clue about all the systems that you were going to need to navigate.
Here you are, years after stepping up to the plate and you've realized this role is unsustainable without help.
You raised your children, for sure it would not be that difficult to do caretaking of your spouse, your Adult child or your Parent.
Every day of your life is a blur. You're taking care of your immediate family, running a household, and meeting your other social obligations all while trying to make sure your loved one has everything they need to live an emotionally, mentally, and physically stable life. You are exhausted.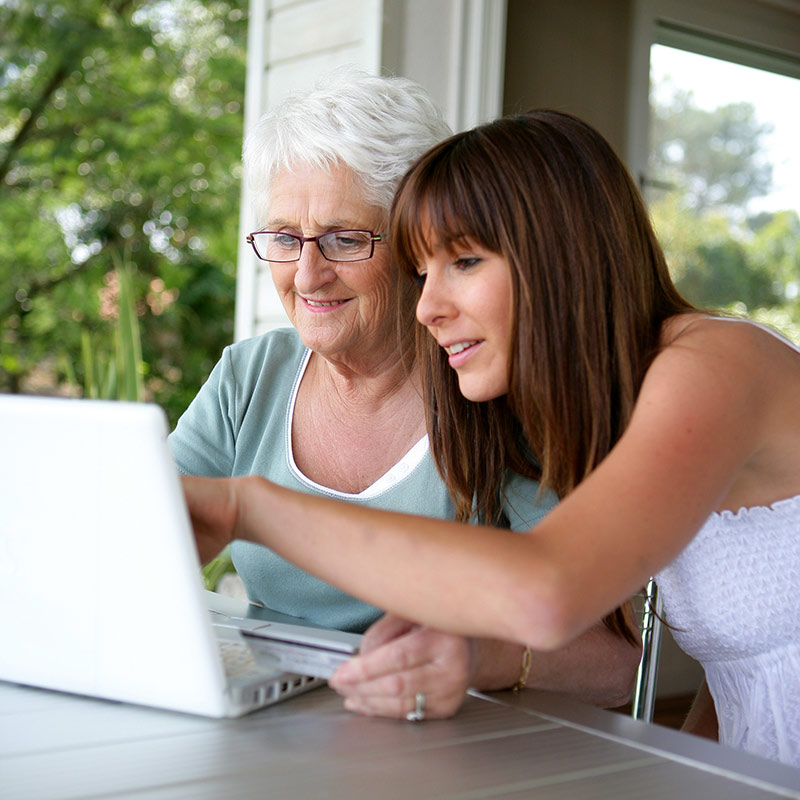 Now, you never believed becoming a caregiver would be simple.
There are a ton of family dynamics that come into play when you start to be concerned about the safety and mental and physical health changes that your Parents may be going through. But you certainly didn't want your loved ones going without the love and attention they need. In fact, you want the opposite: for your family members to live out the rest of their lives in peace, happiness, and health. You know there will be days that are more difficult than others, but you want to be the person who is present for your loved ones during this time.
But, what you didn't expect was how demanding the care for older adults tends to be and how burned out you feel so you often lose you temper. You never predicted going to your family members' home multiple times per day. You had no idea you'd have to drop everything you were doing to rush to the emergency room. Even in Assisted Living, you need to be available to help since Medical is not a part of their contract! And you certainly didn't expect to have to choose between the various people you love to meet everyone's needs
So Here You Are:
The overwhelmed caregiver, the confused caregiver, the depressed caregiver, the hopeless caregiver.
You realized it the other day…
You were hiking in The Foothills for the first time in months. You hadn't been able to get away and you were thrilled to be taking a few minutes to yourself. You debated leaving your phone in the car, but decided not to just in case a call came in.
And you cursed yourself when the phone inevitably rang.
It was the assisted living facility.
They were calling to regrettably inform you your Mom had fallen and was taken to the hospital.
You immediately began to panic.
"I thought I was taking good care of her, but she still got sick."
" She fell, even though she did what I asked."
"I'm a terrible caregiver for feeling relieved it's almost over."
But when rationality crept in, when you came out of your panic, you admitted to yourself:
"I need to explore these feelings and find a way to not beat up on myself."
You've dedicated your life to caring for your family, but when you're honest with yourself
You're overwhelmed with everything required to be the caretaker.
It doesn't matter how much you planned for the future, you were not prepared for the unique challenges —-In fact, the resistance you get when you try to help is hard for you to understand. You truly thought you'd act as an occasional helping hand and never imagined how much you'd be depended upon. How come they say yes to you, and then not follow through with your words of wisdom? This is beginning to feel like an Adolescent Nightmare—in reverse!
You feel guilty admitting being a caretaker is hard for you. But, being dependable 24-hours a day is taking a toll on your own health and happiness.
The truth is, many caregivers struggle with the burden of supporting their loved ones. It doesn't mean you aren't giving or loving. You are not the only person devoting their energy to their family members to have a hard time. I see this every day in my work supporting caregivers. The key to acting as a caregiver and maintaining a sense of self is finding the education and resources to support you as you help your loved ones so you can know what to expect in the future.
You're happy to be a present helper in your family's lives, but you're ready to learn how to take care of yourself while caring for others.
When You Seek Caregiver Education and Support with Coaching Aging Adults
You will not be alone caring for your family member, jeopardizing your livelihood or sanity.
You will gain an understanding of where to find local and national resources that are available to the older adults in your area so you can call upon them for help.
You will receive the emotional support you need to move forward with difficult decisions regarding your loved one's care.
You will find resources to develop knowledge of illnesses and diagnoses that impact your family, so you can know what to expect.
You will feel relief believing you are just as important as your loved one and there are people invested in supporting both of you.
The Caregiver Support Process
Caregiver Support is intended to help you find the encouragement you need to be present for your family. Together, we will advocate for you and your loved ones, so everyone is happy with the caregiving arrangement. We will also work to gain knowledge of insurance, long-term care, social security and any other institutions that will help you help your family members.
We'll meet together weekly or bi-weekly for 60-minute sessions. Caregiver Support can be done locally in the Arvada and Evergreen Colorado area or online nationally.
Here's what to expect:
We'll determine together how often you need to meet, given your stress and schedule.   Typically, counseling/coaching continues for three – six months, but your need for support may be longer depending on the complexity of your situation.  Research shows those without a strong support system your own health is at risk.
WEEK ONE: Intake
During this initial session, we define the relationship and discuss the details of informed consent. I gather information about you, your family members, and your biological, psychological, and social history and how this is impacting your current situation.
We also discuss the goals you have going forward.
WEEK TWO and Beyond: Caregiver Education /Support
Identify your family relationships needs and set goals for where you want them to be.
TERMINATION: 1-2 Final Sessions
In our final sessions we will review your goals to ensure you are satisfied with your counseling experience and that our work together has met your expectations. We will also outline a plan going forward so that you are able to retain what we have worked on together and implement all you have learned outside of session.
More About Coaching Aging Adults
We combine over three decades of experience in long-term care, assisted living consultation, and mental health in a culminated practice that helps older adults and their families navigate all the changes come with growing older.
Coaching Aging Adults is dedicated to giving older adults hope and purpose for their future as well as helping caregivers learn to effectively work with the aging population. Whether you are just beginning to care for your loved ones or you've been doing it for years, Coaching Aging Adults is invested in helping you help your family.
When I tell individuals that I meet what I do, they say to me "I wish I had met you when I was dealing with those issues with my MOM. I was clueless and had no idea where to turn or what questions to even ask. My life would have been less stressed having a knowledgeable Advocate about the resources, systems, and challenges that I was going to face as we tackled all these transitions."
It is our mission to educate clients and their familes about normal and healthy aging and to help them address the unique challenges of growing older such as: disability, health concerns, change, and dealing with loss.
Who Benefits Most from Caregiver Support?
Caregiver Support is best for family members who are acting as a main source of care for their loved ones. Caregiver Support helps clients learn how to remember themselves throughout the caregiving process so they do not end up feeling overburdened or overwhelmed. Remember, you need to put on that oxygen mask first, so you can be available to help those unable to help themselves.
You will benefit from Caregiver Support sessions if:
You feel isolated and alone because of your role as a caregiver
You are unsure how to handle a recent diagnosis of your loved one and what this will mean for your responsibilities
You are at a loss for community resources that can help you help your loved one
You are afraid of sacrificing everything that matters to you for the sake of caring for your loved one
You no longer believe in your ability to balance everything you have going on in life
It is possible to be supportive of aging loved ones and find ways to put yourself first. You will be able to pursue the things that make you happy and be present for your family members. You will feel confident in your ability to manage your obligations and help everyone you love live happy and healthy lives.
It doesn't seem feasible right now, but that does not mean you can't find resources to help you be an effective loving caretaker.
Ultimately, Caregiver Support/Education at Coaching Aging Adults will help you balance the variety of emotions that come from being involved in a loved one's later years.
Schedule a Caregiver Support session with Coaching Aging Adults